Happy new year everyone.
I have had a nice peacful, quiet time, and I was still doing some caring work over  christmas and new year, as well as making new Jewllery.
I started new projects, such as working with sheet silver again, for the first time in many years. 
I have been setting up a room upstairs for doing some actual silversmithing, and I'm heading off to Aberdeen in march ( God willing) to do a 2 day workshop on  smelting and recycling silver and stone setting, so I'm getting myself prepared. 
My lovely husband saw that I was struggling a little, and instantly made me a pin bench, because only half of my order from cooksons gold arrived before christmas and the rest only came on 5th January. This really helped me in my sawing and I stopped breaking the blades after that. 
I have been making my own earwires, and other items now for a while, and I'm trying to get them to look professional as much as I can, as well as looking hand made.
I put some of my hand made silver clay jewellery in some local shops before Christmas too, so Im looking forward to seeing how people may have liked them. There are not many of them listed here on my website yet, because the silver clay is very very expensive to buy, so I can only do small batches.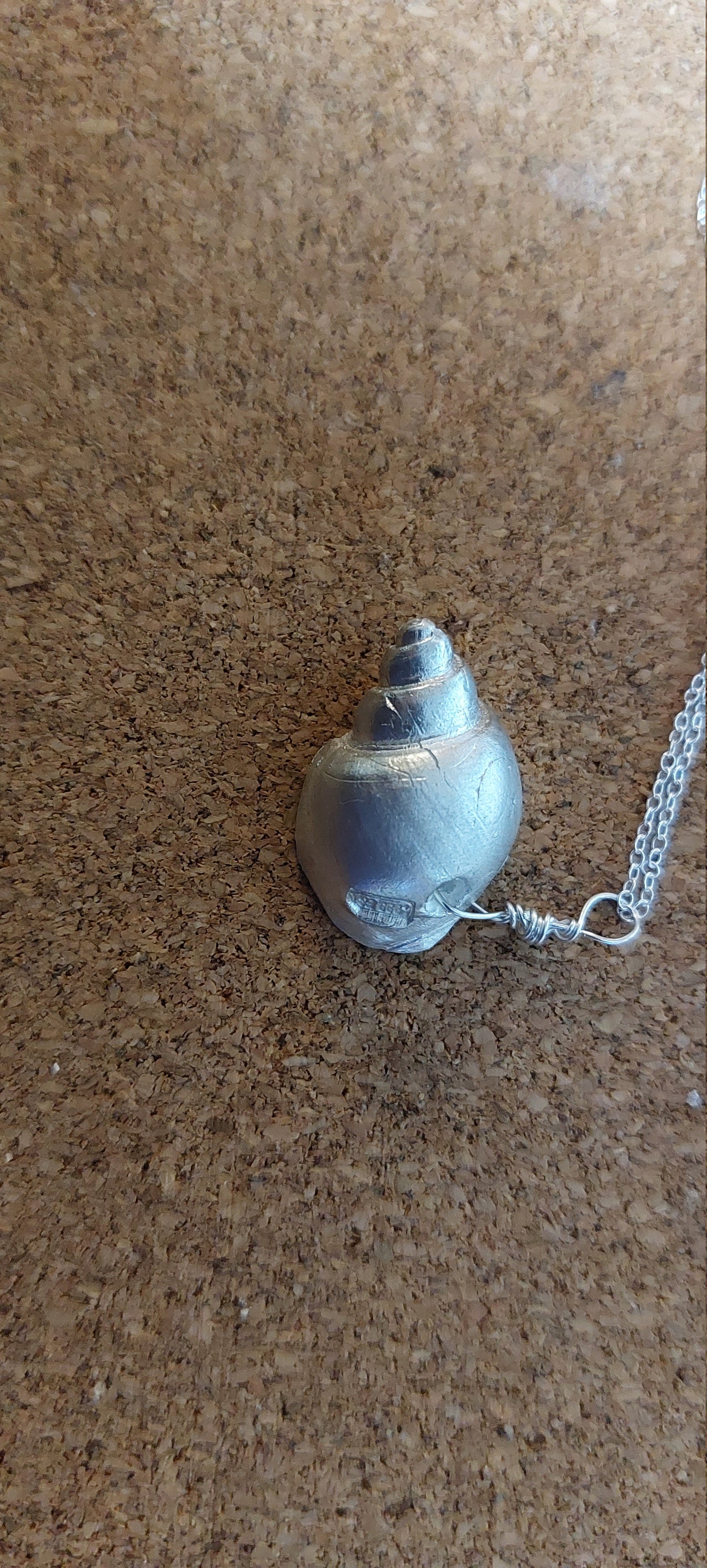 here is one of my silver shells though, based on a real shell.
I still love my Gemstones as well, and have spent late nights sitting watching films while making silver and gold wrapped gemstone Jewllery. The wire wrap bracelets are always a favorite, and its a good investemet as they are worth a lot more than I sell them for. 
I have been on a healthy eating diet with the  One to one diet consultant since May last hear, and I have lost over 2 stones so far. My blood pressure has come down, so I dont need medication now,  and I started to walk most days if I can. I put a lot of pounds back on over the 2 weeks indulgence, but I'm back on track now. My husband has lost over 3 stone already at the same time. 
Then on the last day of december, I signed up for the Run 50 Miles in January Challenge, to raise funds for Maggies Cancer charities. Im the only one so far to sponsor myself, but as I have not done running before, the benefits are that it will be good for my heart and lungs as well as my bones. So I keep telling myself any way. I'm terrible at it as I cant walk far withough being in a lot of pain, so running is very difficult for me. Most days I have managed to force myself to do a mile or 2, and I have a whole month to do it in, so I'm determind to finish it. 
In my art studio,  at East camp, my husband has also made me my 2 beautiful wooden wall mounted easles, so I will tell you more about that in my next blog.