We moved to Benbecula, which is a Scottish Island in the Western Isles, from the Isle of Mull in Argyll 26 years ago. I had lived on Mull since I was 13 years old. I would recommend visiting both of these Islands if you ever get the chance. Both are very different but both are very beautiful. Benbecula is the middle of the islands in the Uist's.  In Benbecula is a built up area called Balivanich which was used by the MOD for Army and Raf houses, so it is a small town. We live in one of these houses, and we have a sea view. The first thing I did when we got here was to plant a garden, which is still looking quite good if a little untidy. I have a palm tree and a monkey puzzle which I brought over from Mull. I am a volunteer and director of the Uist community riding school, and I have a lovely pony called Thorn. He is on part loan, and very occasionally I even ride him myself though I have lost a lot of my confidence in riding as I have got older.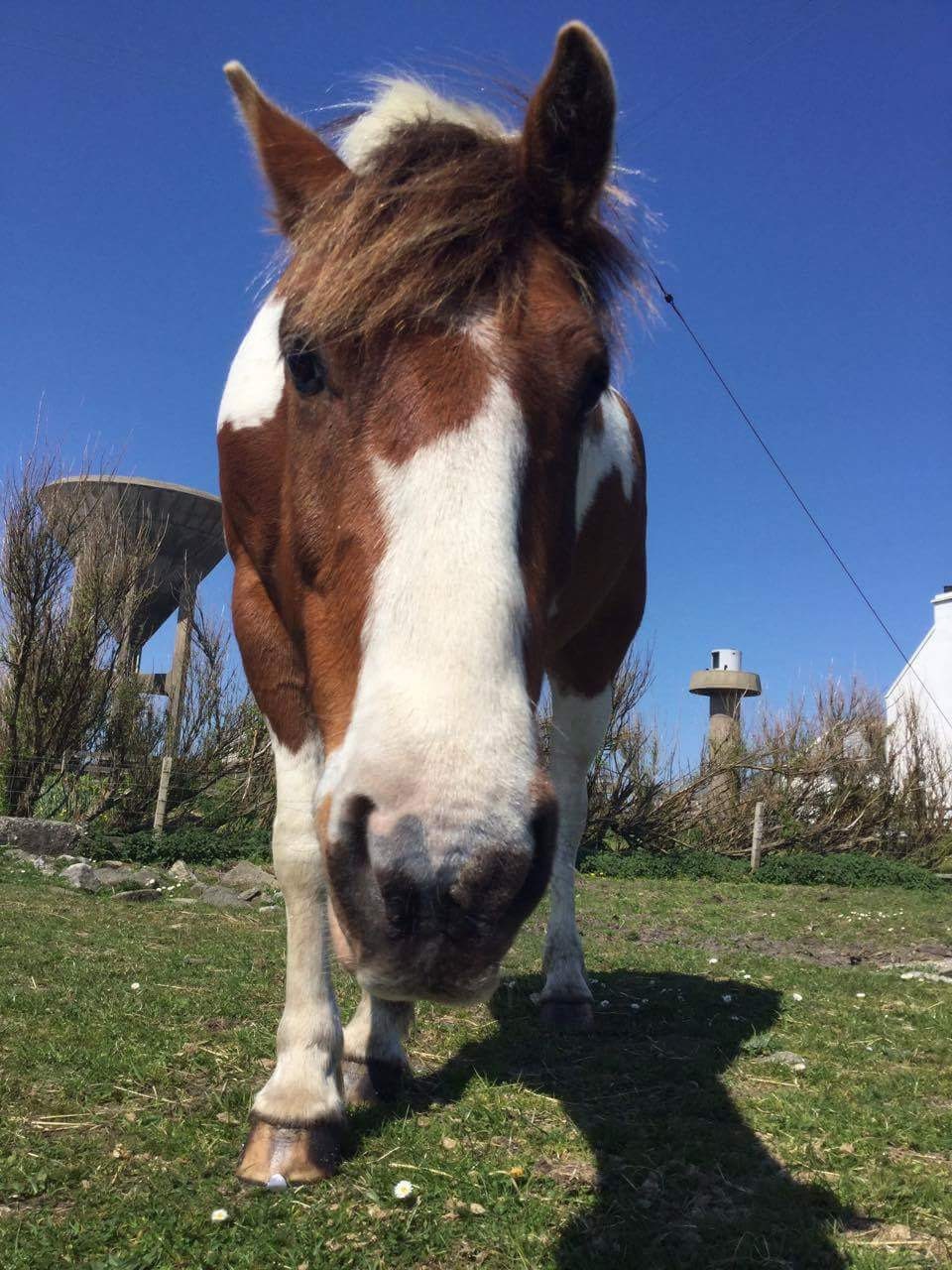 you can go for a ride on the beach here in Benbecula, which I will tell you more about another day.  Sometimes it gets quite stormy here, and I like to stay indoors all cosy and make some of my jewellery. Here is a silver wire wrap gemstone bracelet that I made during one of these storms, using my head torch when the power went off. ( which doesn't happen very often) There are moonstones, Amethysts, chalcedony Iolite and ruby in the bracelet, and it can be found in my shop. I do custom orders for jewellery as well, if anyone would like a different colour or gemstone in one of these, or if they would like a gold vermeil one instead. You can just send me a message if you want to.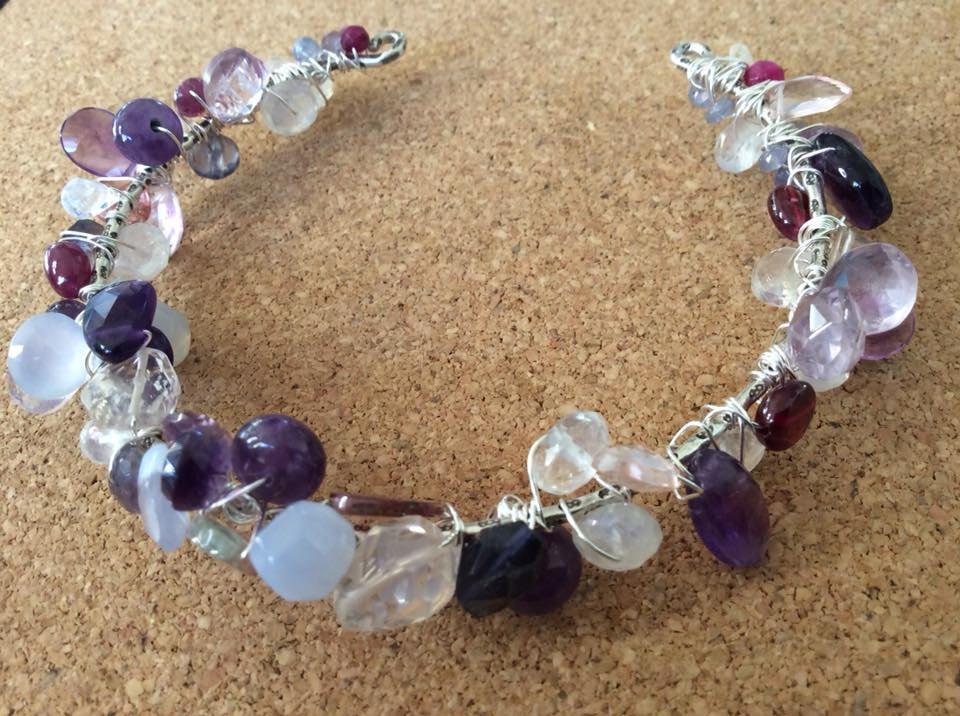 when the weather clears up, there is nothing like going fishing off the end of the old pier at loch skipport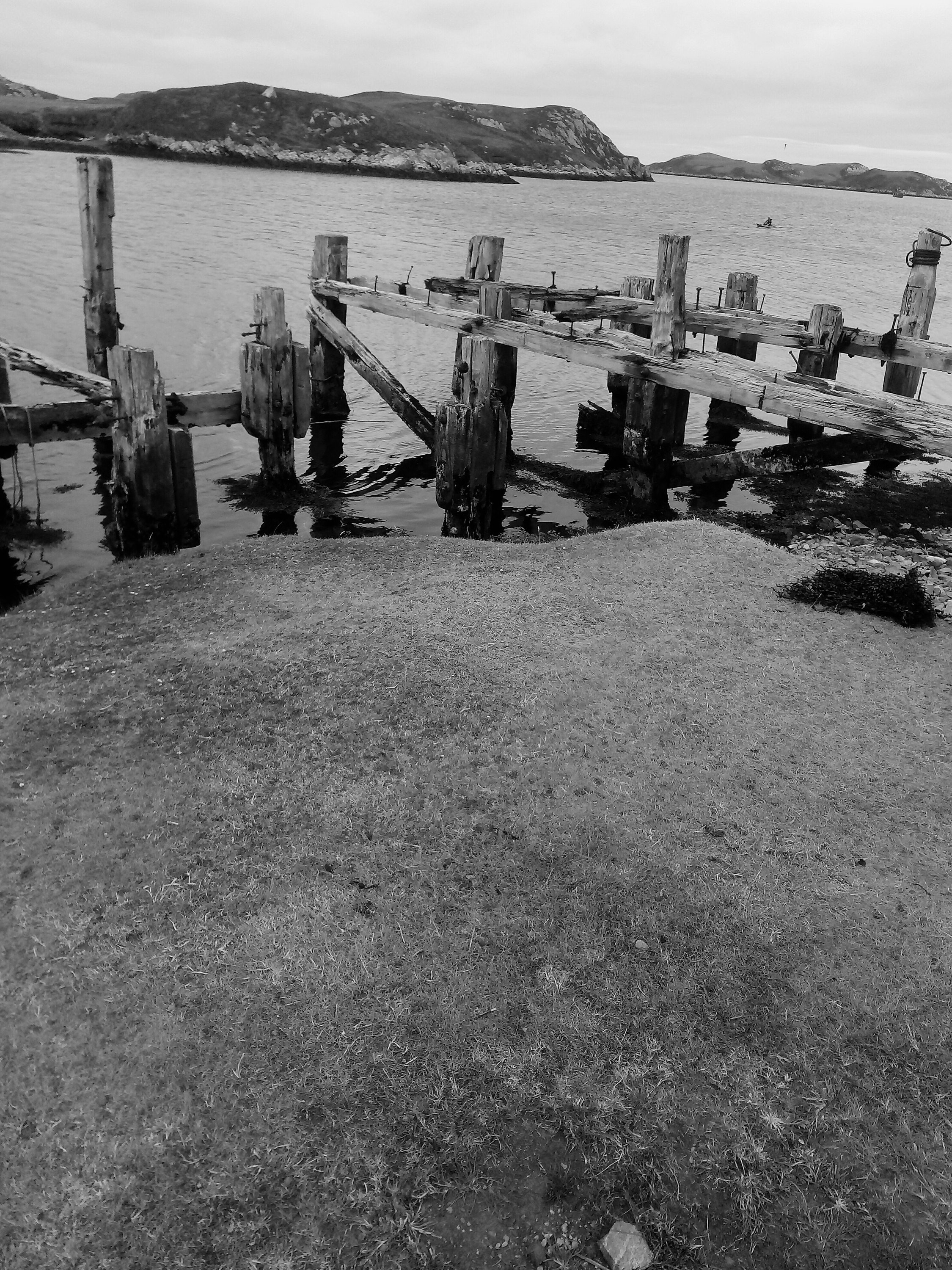 which is one of my favorite place on the island. ( mind you, I have a lot of favorite places!!!
  The last time I went on my own fishing here though I nearly fell in to the sea, and a year or so before that, I ended up casting my plastic carrier bag into the sea, complete with midge repellent and mobile phone. I did catch a lot of   Mackerel though! Some of my other favourite places to go for a walk on the island, are lochmaddy old road, which is easy to find just outside lochmaddy. By the way, Lochmaddy is where the arts centre is based, and where I started my art course. There are miles of this old road to walk on, and you get to see the beautiful purple heather in summer. locals cut peat here and leave it to dry.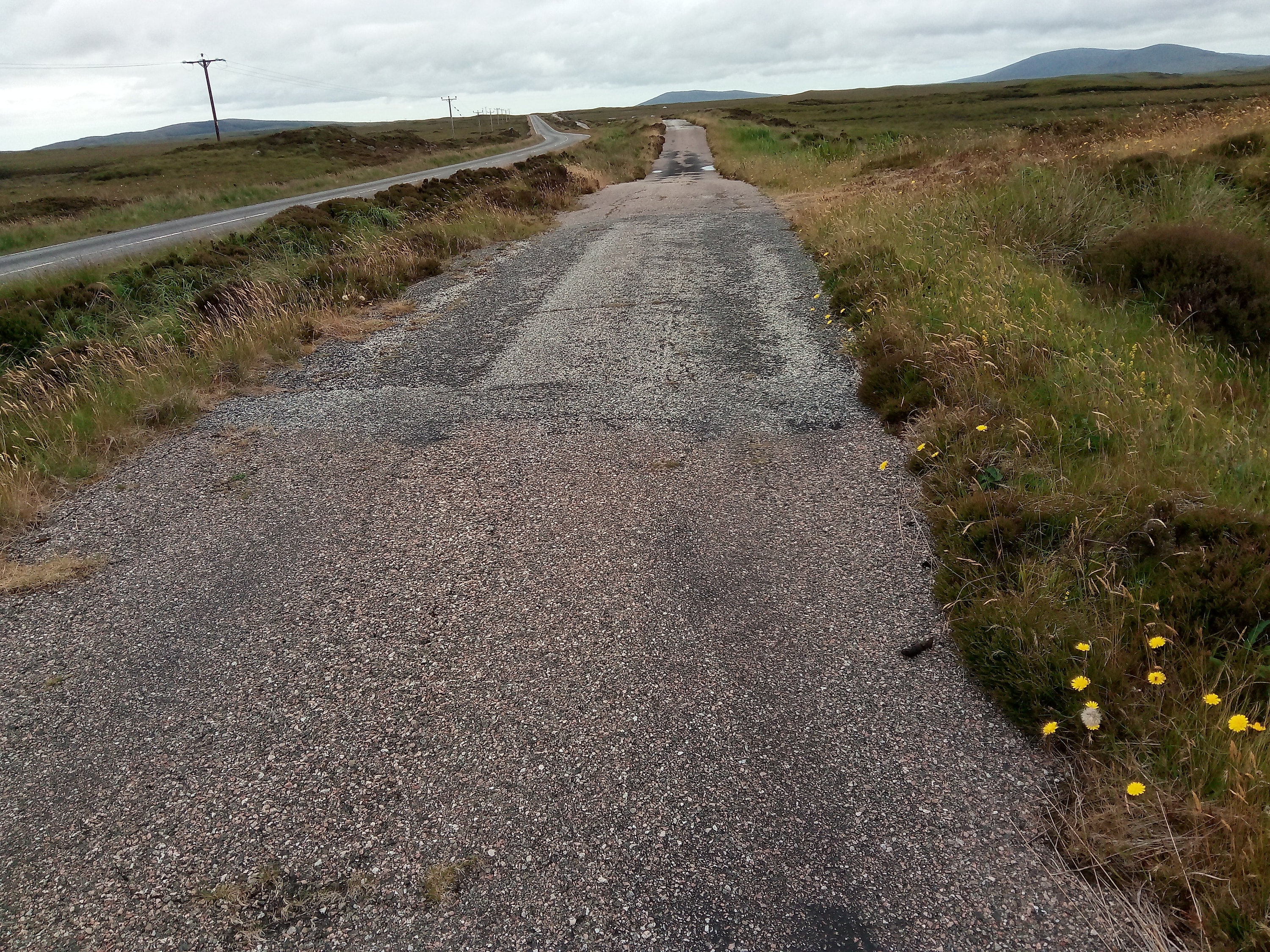 and nearby is langas woods, where Hercules the bear is buried. (A story for another day.) The main photograph shows the wooden bear representing Hercules the bear which is in Langas woods. This is one of the few places we can take the husky cross Mal called Zuri for walks and let her off the lead as long as it is quiet. (Libby Patterson has written a new book which is based on the Uist's and she includes us walking in langas woods. Her book can be found on Amazon and is the 3rd book in a series.)   
Also Locheport where you can always be sure to see some deer, especially at dusk and night time.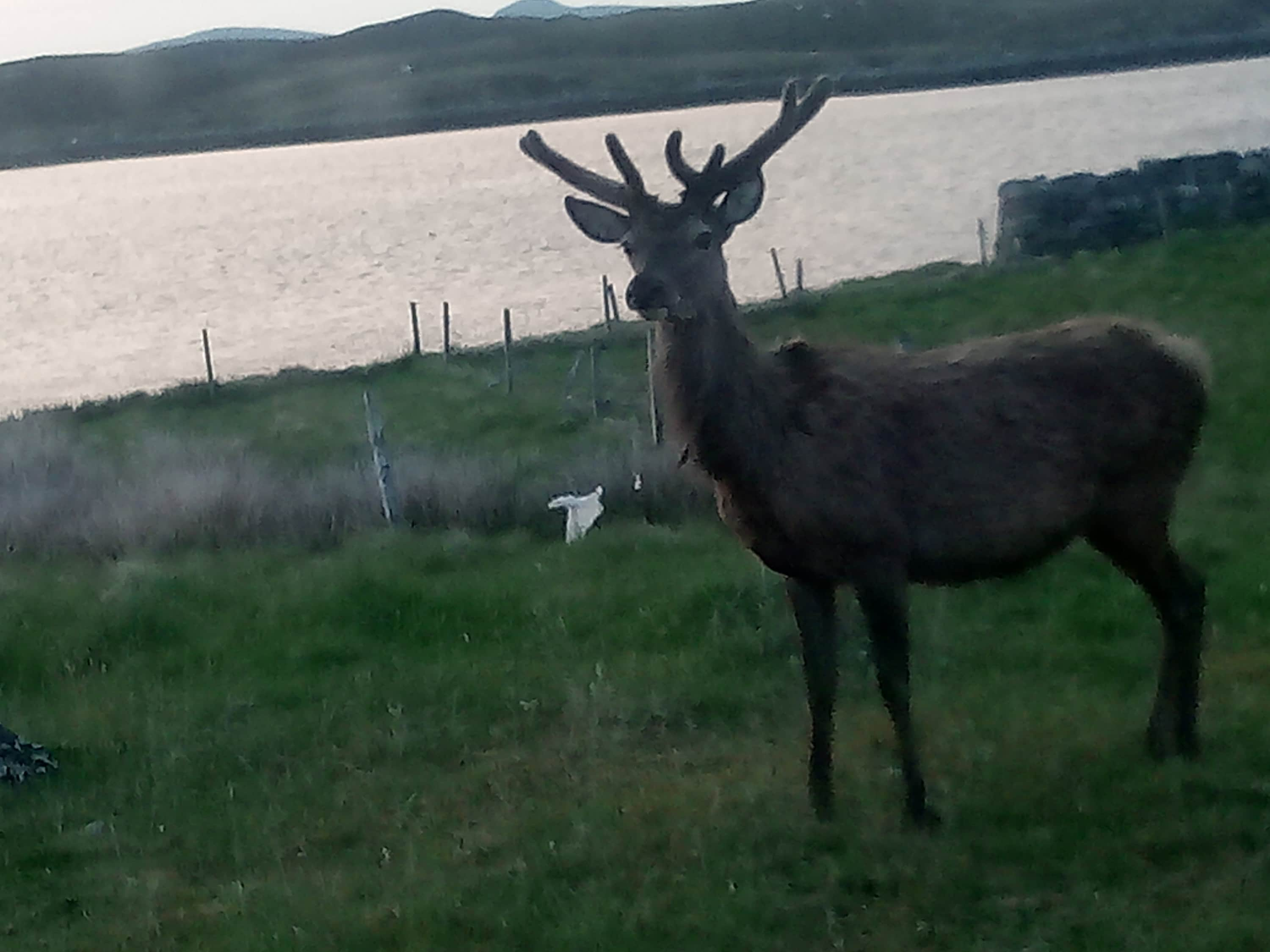 There are great lochs for fishing in this area too. and you can find artists and craft places all along these roads. 
I will leave you with an older Necklace design made with Turquoise and Thai karen Silver. I had my makers mark stamped on to this from the Edinburgh Assay office.